2 days ago I decided to visit Arizona for a weekend trip right after getting off of work. I was going to link up with a friend, whom I traveled with in Brunei, who was going to continue her cross-country USA trip.
When you find yourself at Antelope Canyon less than 24 hours after landing, you know you made the right decision. I shouldn't be comparing, but the 1.5km souq walk towards Petra had finally been rivaled by the mere few hundred feet of the slot canyon we found at Antelope.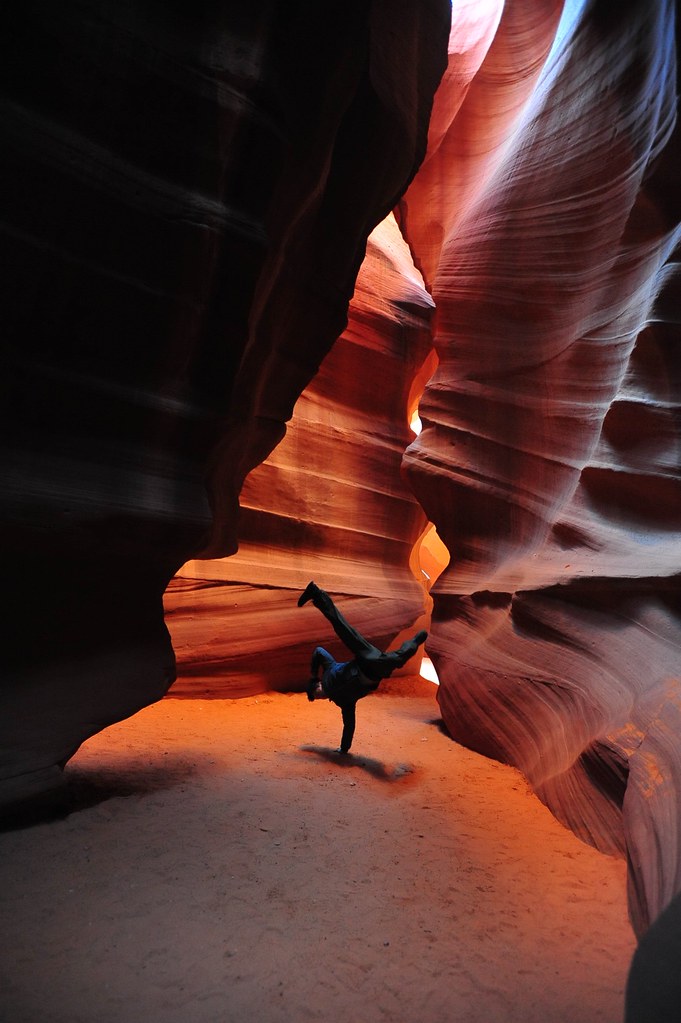 Antelope Canyon just got served
Horseshoe Bend
Ever since I've known Jenn, she has been encouraging me to check out the Couchsurfing community. Although plenty of people I've met the last few years have been asking me to join the community, Jenn was the one to actually convince me; I guess it really has been long overdue.
After landing in Phoenix at 2am, we spent about an hour at the airport looking to rent an SUV for the weekend. Afterwards, we crashed at the house of a local couchsurfer named Milan.
Milan, who greeted us with amazing homemade Serbian soup from his crockpot (you need a spokesperson for Crockpot? This is the man!), was a Serbian refugee from Bosnia & Herzegovina and has been living in Phoenix since he was a teenager, having been moved here by the U.S. government during the Bosnian War. Now working for Head Start in providing comprehensive education for low-income children and their families, Milan not only agreed to host us for the night but also accompany us with his fellow Serbian friend, Mladden, for the weekend trip to Page, AZ. Moreover, we found a 19 year old Australian girl traveling by herself in the USA, Iggy, on Couchsurfing who also wanted to join us.
Jenn and Milan with his crockpot creation
Jenn, Milan and I slept for about an hour at Milan's place before setting off with Mladden and Iggy (whose bus came in 2 hours late and managed to get to our place just as we were about to leave and search for her) at 9am for the 5 hour drive to Page, Arizona.
We got to Page, AZ at around 2:45pm where we made it just in the nick of time for the 3pm tour to Antelope Canyon with Slot Canyon & Tours (one of the few open during the weekends). If you go on an official tour like we did, you don't need wait for a reservation for the hiking permits; you can just go straight there.
For about $37/pp, they packed us in a little open-air truck and drove for about 15 minutes to the opening of the Upper Antelope Canyon.
Driving to Upper Antelope Canyon
Antelope Canyon just got served
Getting to Antelope Canyon is stumbling upon a photographer's dream. Thousands of years of flash flooding and water erosion through these rock formations has given the canyon the appeal you see today. You can be the worst photographer in the world and still get shots people would pay good money for.
We spent an hour walking through here, leisurely, before getting to the other side of the canyon. But if you wanted to breeze through it, it would take 5 minutes . . . but why would you?
"The Wave"
Milan and Madden for their album cover
After Antelope Canyon and being dropped off back in Page, we got back in our SUV. it was recommendeded that we check out Horseshoe Bend nearby, so we drove about 10 minutes south to the entrance for 1/2 km hike to the valley.
And after a quick uphill and downhill hike, you'll come across something so beautiful, you've wondered why you never gets the amount of press that it should:
After 10 minutes there, we walked back to our SUV and drove back to Page, AZ for the night.
The lights of Page, AZ
768 total views
- At time of posting in Page, Arizona, it was -16 °C - Humidity: 47% | Wind Speed: 10km/hr | Cloud Cover: clear