If it's not already playing, press play. And then start reading.
Only after…
1. A 3 hour overnight bus from MAASU in Madison, WI to Chicago, IL
2. A 5 hour international flight from Chicago, IL to Oranjestad, Aruba
3. A 40 minute flight from Oranjestad, Aruba to Caracas, Venezuela
4. An 8 hour overnight bus from Caracas, Venezuela to Ciudad Bolivar
5. A 1 hour Cessna flight from Ciudad Bolivar to Canaima National Park
6. A 30 min drive to the local river
7. An 8 hour speedboat upriver to the Auyan-tepui, including getting off countless times to push our boat upstream
6. And a 2 hour hike..
…we finally make it to the tallest waterfall in the world, boasting a drop of 970m:
Remember Paradise Falls from Pixar's film Up?
Yeah, all that was missing was our balloon-powered house:
Unlike Machu Picchu, Torres del Paine, Perito Moreno Glacier, or other South American wonders, Angel Falls takes the cake for challenging the everyday traveler with the most physically demanding itinerary.
The whole journey took us about 2-3 days, and that was us feeling like we were pushing it rather quickly to see as much as we could.
After an overnight bus ride from Caracas to Ciudad Bolivar, arriving at around 6:30am in the morning, we quickly hopped on a 5-person Cessna plane for an hour flight to Canaima National Park.
Ciudad Bolivar
To be honest, a lot of us nodded off on the flight, and within 20 min we woke up to a completely different scenery outside our windows:
Canaima National Park
We landed in Canaima at around 9am.
The airport passport procedure takes place entirely outdoors, and within 20 minutes, we hopped on a truck.
And we soon arrived to the local village in Canaima.
Without much delay, we were asked by our guides to repack all our bags and take with us just a day bag that would be enough to last us for the next 24 hours.
This may sound easy but it ended up being rather difficult since a few of us were deciding how much camera gear to take with us and whether passports/money/valuables would be better off in a locked storage unit here or in dinky daybags that may get lost in the river.
We then headed over to our speedboats for the grueling 6 hour ride up the river towards Auyantepui, the tepui (aka "tabletop mountain", or sometimes nicknamed as "house of the gods") where Angel Falls is located.
Because we were visiting during the dry season, the river levels weren't high enough for a straight, smooth, direct shot up; at many points we had to disembark and hike overland so the boats could cross certain points of the river without being weighed down.
Of course, these overland hikes presented many opportunities for photos.
Mount Roraima just got served
And while we hiked, our guides worked brutally hard to make sure our boats got upstream:
As the hours passed by we were coming up closer to what seemed like a land before time.
And then as we got closer to where we needed to be, the water levels seemed to be decreasing further, forcing everyone in our boats to get out and help push them upriver, barefoot.
Quickly getting back in the boats after getting some momentum was also pretty tricky:
Butthurt
When 6pm came around, we started to worry as the sun was setting quickly and we were still on the river. We also noticed exasperated looked on the faces of our guides, worried at how slowly we were moving and the concern that we would have to navigate up the river and push our boats in complete darkness.
But just as the last remnant of daylight glanced the river at 7pm, we finally reached base camp. It was a very close call.
We quickly donned off our wet clothes and hung them on the clothesline to dry. Somewhere along the boat ride, our guides and killed an animal related to the tapir and asked if we would be offended if they cooked it for us (Not at all!).
We then had dinner over candlelight, as electricity seemed like an afterthought at this point, and then passed out in our hammocks.
Classic arepas greeted us for breakfast the next morning:
And then we set off on our 2 hour hike towards Angel Falls.
At a few points we would get impatient and sneak out a few views of the falls.
But it was after a 2 story hike up where we got a true clearing to appreciate the falls head on:
After a few photos we hiked 20 minutes further towards the base of the falls, where we stripped and went for a swim.
We spent 30 minutes at the base of the falls, before retracing our steps back to base camp.
We celebrated with a grilled tapir: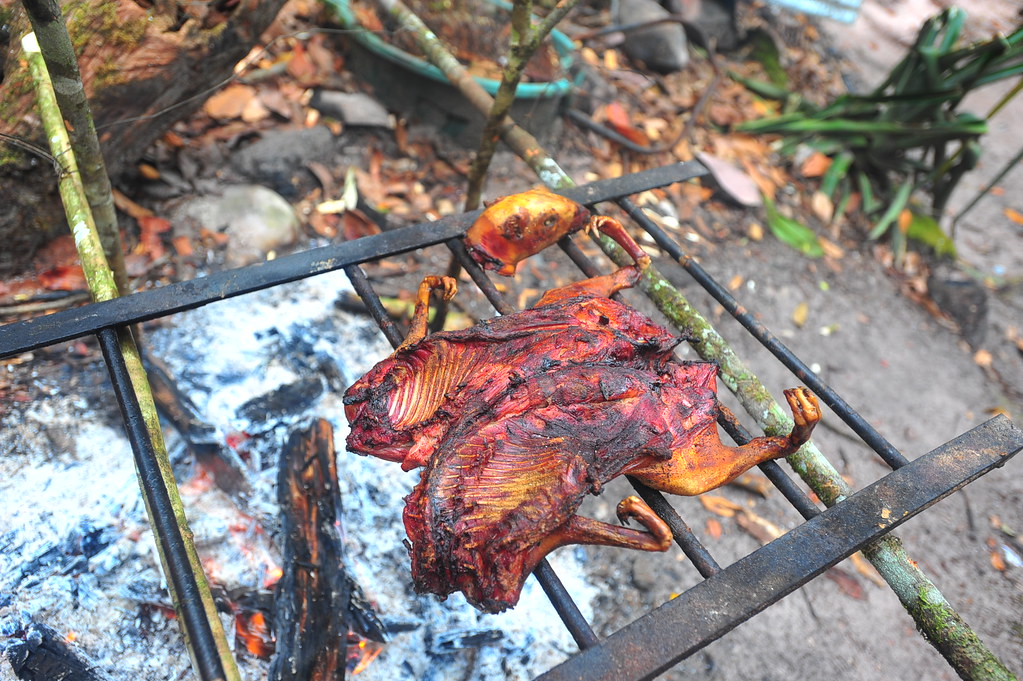 After lunch, we got back into our boats and headed back to the Canaima village, which was much easier than the day before. We got back right at sunset.
After dinner, we passed out in our assigned posadas.
The next morning our guides took us to a much more nearby Canaima Lakes to check out Sapo waterfalls.
These waterfalls are unique in that you can walk up close and behind them.
Right next to these falls is a lagoon where you can enjoy a little swim and cliff diving.
After Sapo Falls, we headed back to our posadas to dry off and begin our Cessna flights back to Ciudad Bolivar. While the 2 other Cessnas headed back directly, my particular Cessna decided to take a $50/person detour to view, up-close, the rarely-visited top of Auyantepui (so isolated from civilization it has its own unique ecosystem) and Angel Falls itself.
More than satisfied, we headed back to Ciudad Bolivar and to modern civilization itself.
1,360 total views
- At time of posting in Angel Falls, Venezuela, it was 22 °C - Humidity: 100% | Wind Speed: 3km/hr | Cloud Cover: partly cloudy