As 6 of us head back home after completing week 1 together, the 10 of us remaining headed out at 8am for a 4 hour pilgrimage to Mount Ostrog Monastery, a Serbian Orthodox Church dedicated to Saint Basil of Ostrog (Sveti Vasilije Ostroški), and that has been built within the Ostroška Greda rock formation.
Mount Ostrog Monastery just got served
Had we more of a choice, we would've left a bit earlier at 7am to avoid the potential 4 hour wait times that can occur later in the day (up to 100,000 people a year visit the monastery), but our group struggled to wake up in time. Understandable, given that our current body count of sick folk is now 7 people. . . . but don't worry — we're all still very much alive and most of us are now in recovery mode!
At 8am the 10 of us walked 15 minutes over from our hostel (Montenegro Hostel Podgorica) to the bus terminal, where we got 9am bus tickets to Niksic for 3 euros per person.
While waiting for our bus, we decided to spelunk some abandoned buildings by the bus station.
Easily bored by what was around, we then headed back to board our bus to Niksic.
We arrived in Niksic Bus Station exactly an hour later at 10am, from where we hailed 2 cab drivers waiting outside for 20 euros each for the long drive up to Mount Ostrog Monastery.
There was an obscene amount of traffic and crowd control by the local monastery staff on the drive up. You can instead opt to hike up the 12km to prove the strength of your religious fervor, but that would've taken all of us 3 grueling hours.
Our cabs, slow but sure, finally arrived at the monastery's Lower Church at around 10:45am. Make sure you drink from the monastery fountains right outside for a quick blessing!
As our cab drivers waited for us in the parking lot, we got into line and waited about another 45 minutes to get inside the Upper Monastery. You can take this time to walk around Lower Church and take photos of the frescoes here, or make some blessings by buying some candles at the line to your left.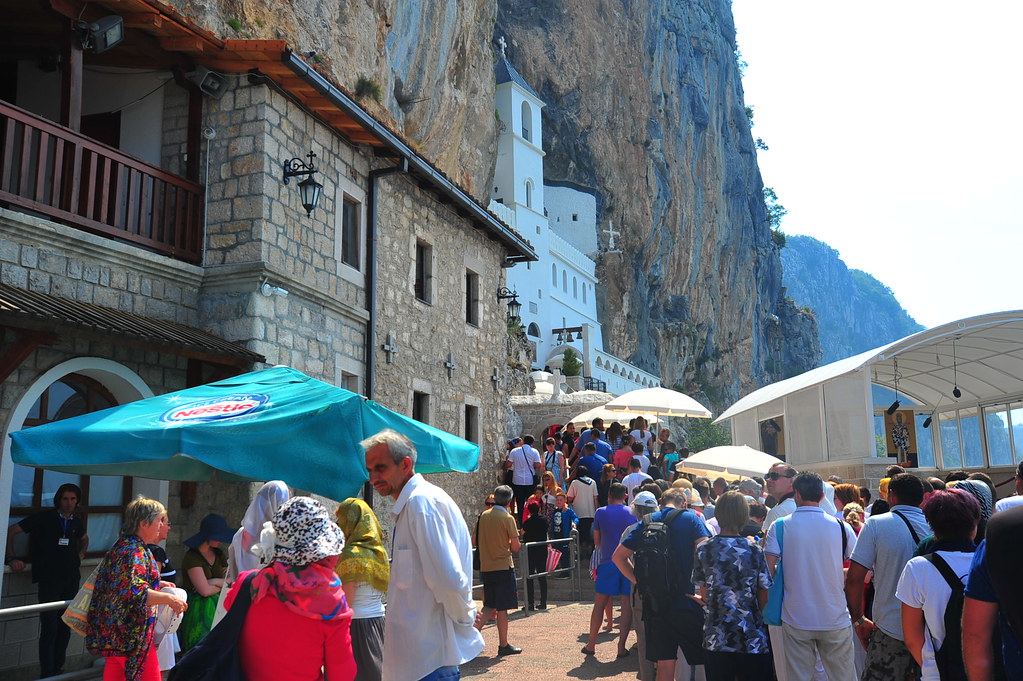 We finally were able to enter the Upper Church at around 12pm.
The first stop once at the Upper Monastery is a small tiny room where you pay your respects to Saint Basil's pile of bones wrapped in cloth.
Then you will walk through another blessings room on your left…
….and up 5 flights of stairs to get great views of the Bjelopavlići plain. Notice the vines growing out of the rock as people believe it is a miracle that anything can grow out of sheer rock face.
Take your group photos in front of the rock wall frescoes:
And by 12:30pm we were done and back down at the lower monasteries, taking our cabs back to the Niksic Bus Station for the 1:34pm bus back to Podgorica.
776 total views
- At time of posting in Niksic, Montenegro, it was 28 °C - Humidity: 37% | Wind Speed: 21km/hr | Cloud Cover: sunny