After spending 2 hours at Bran Castle of Dracula fame, we hailed a nearby metered taxi to take us back into Braşov, the 7th most populous city in Romania and arguably the most visited by tourists. There's even a saying among Romanians to their visiting guests: "Why bother coming to Romania if you're not going to see Braşov?"
So we decided to see Braşov.
After being dropped off by our cab driver (and summarily ignoring his odd request when he argued that we should pay double the fare for his ride back to Bran castle…that was weird), we started our tour from the very south at 14th century St. Nicholas Church.
If you're a big printing press nerd, the church is located on the same grounds as the First Romanian School, which houses a museum featuring the first printing press of Romania. We also caught a random wedding here, and pondered whether to sneak in as guests.
After we failed to join the wedding party (we didn't try very hard), we wandered a few feet up to the main, sleepy square of Old Town Braşov (Piața Unirii):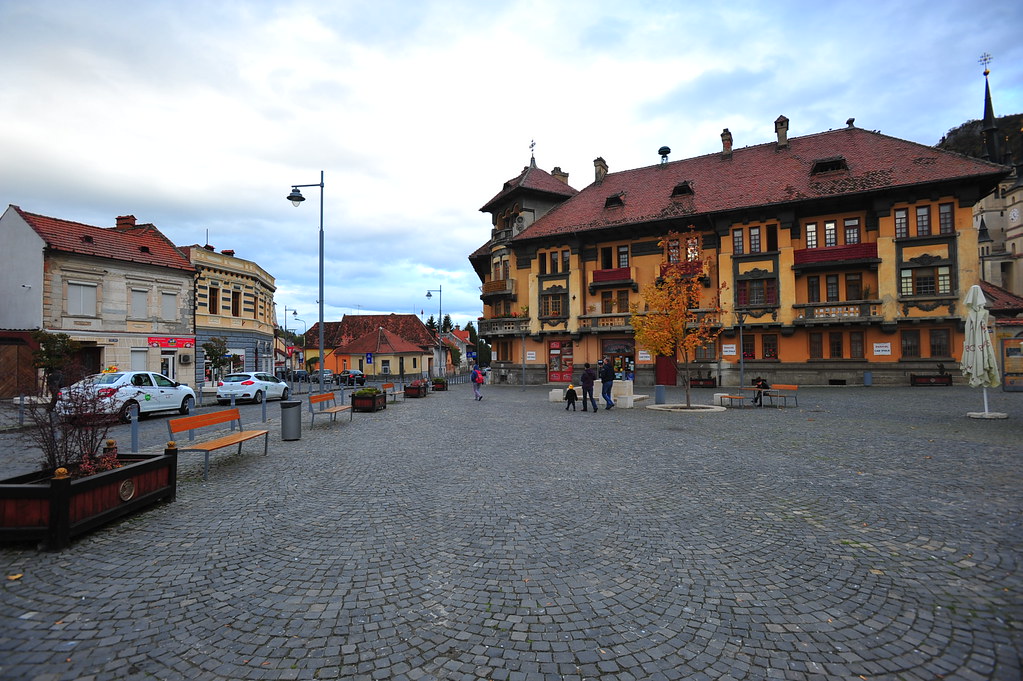 About 5 minutes north is the atmospheric Biserica Sfânta Parascheva and its surrounding cemetery:
Then we detoured northeast towards the Bastionul Fierarilor landmark and hiked up a small uphill path towards the Black Tower:
From the Black Tower you can get these great views of Braşov:
North of the Black Tower is the Bastionul Graft:
Spy at some impressive graffiti, and then head back down Strada Muresenilor towards the more modern Braşov:
If you can find it, look for Strada Sforii, officially the most narrow street in Romania and believed to be one of, if not the narrowest street in Europe:
Strada Sforii just got served
Arguably the most celebrated site in central Braşov is the 15th century gothic Black Church, getting its name after being blackened by smoke in a fire that happened in 1689.
Then there's marvelous and charming central Braşov itself, especially beginning along Strada Muresenilor:
The centerpiece, though, is Casa Sfatului and the surrounding Plaza Sfatului:
After spending a full 2 hours wandering around Braşov, we then took a metered taxi 10 minutes north to the Braşov train station and caught the 3-hour 6:50pm train back to Bucharest.
P.S. Happy Birthday Dmitry!
426 total views
- At time of posting in Brasov, Romania, it was 12 °C - Humidity: 93% | Wind Speed: 6km/hr | Cloud Cover: overcast