What can I say that hasn't already written about one of the world's largest and certainly premier music festivals? Tomorrowland is no joke and must be seen to be believed. We leave having felt like we visited a true Disney World for all adult electronic music lovers with over 15 stages, 600 artists, and world-class infrastructure that can comfortably accommodate over 600,000 attendees without sacrificing any attention to detail all the way down to the quality of their toilets.
Our weekend with Tomorrowland was experiencing a master class in event planning and we were lucky enough to acquire 2 tickets via their Global Journey packages 6 months ago. Since I had already made plans to be in Greece for Yacht Week, having Tomorrowland arrange flights from ATH to BRU via Global Journey was a convenient money-saving way to get in a festival that otherwise had their regular tickets sell out within 11 minutes of going online.
So from Crete, Mel and I took an early morning flight from HER airport in Heraklion at 8:32am, arriving into Athens an hour later. There I picked up my bag left behind at left luggage in arrivals where I redistributed my belongings and then hung out at a cafe before checking into our Brussels Airlines flight from ATH to BRU at 3pm in the afternoon.
Once arriving at Brussels airport, we immediately saw Tomorrowland's presence having taken over arrivals:
With multiple booths welcoming us at Baggage Claims, we walked over to the Athens section to pick up our bracelet, welcome envelope and letter.
After retrieving our checked bags, we headed downstairs where numerous Tomorrowland staff directed us where to go, all while dancing to music and waving flags welcoming us to Belgium.
From arrivals we boarded a bus that took us 5 minutes away to a sorting station, which continued with background dance music and staff members having a good time getting the crowd pumped up, where we then picked up a tote bag that included a jenga set! We then followed directions to another bus that took us to our assigned hotel by the airport.
After an hour settling in at Pentahotel Brussels Airport, we took an Uber into Brussels where Tomorrowland was hosting a pre-party called Invited Brussels at the Gare Maritime Food Market venue. Numerous Tomorrowland-themed food stalls in the back and a DJ with a crowd in the front.
At midnight they wrapped up on the dot and we returned home to sleep in. Even with 8-9 hours of sleep in our system, this still left us plenty of time to enjoy an included breakfast at the hotel before boarding our noon shuttle bus to Boom, Belgium.
Our bus ride took about 30 minutes into Boom, where we greeted by locals that seemed supportive of the 400,000 people from around the world who descend onto their tiny hamlet every year:
It's about a 15 minute walk from Boom down to a first tent that check your bags for any drinks (no outside drinks allowed), then another tent with metal detectors, before a final tent where you get another bag check and scan your wristband in to enter the festival. Lockers are immediately ahead where I'd recommend you should book for your time at Tomorrowland.
After settling in with our locker rentals and leaving behind our larger items, we walked another 10 minutes downhill (there's a separate path down the stairs that's a little faster) to finally reach Tomorrowland's base for non Dreamville attendees:
After getting a lay of the land with their merchandise store (selling t-shirts, caps, tote bags, and sweatshirts), equipment stands (which sells sunglasses, vape pens, bracelets), phone charger rentals, and picking up maps from the information booth, you can get a sense of the size of the festival at the Brussel Airlines' sponsored Ferris Wheel in the back:
The Ferris Wheel is located right next to the Dreamcatcher food court and toilets . . .
. . . but our favorite spots for food and relaxation would be the Mesa Garden, featuring vegan, oysters, Asian, and even food by one of the world's top chefs Gaggan Anand.
To purchase food you have to obtain Tomorrowland's currency known as pearls. To get pearls, you can top up your bracelet (which also doubles as your entry ticket) either online or in person at the festival. We recommend doing it online before the festival because pearls will be automatically refunded back to your credit card after the festival is over, whereas topping up in person at the festival requires a manual form and longer process to get a refund afterwards.
If you want a more of a sit-down restaurant experience, Tomorrowland has that too at Brasa. You scan your bracelet in for about 20 pearls per person (approximately €44) and you enjoy a set menu of fish, meat, or vegetarian with shared plates of a baked potato with cheese, cabbage steeped in butter sauce, a stuffed taco, and an included vodka-based cranberry cocktail. You then can leave anytime to pick up a gold-dusted cake pop as dessert on your way out.
A better dessert option would be celebrity chef Roger Van Damme's Sweet Dreams stand featuring a candied Belgian waffle with ice cream, chocolate crisp, among other ingredients that made this dish really really sublime:
Then we head to the music: 15 stages featuring over 600 DJs and artists define Tomorrowland, so I won't list them all out here as there's no point in trying to visit them all. Instead we recommend just going with the flow and following wherever the right music takes you. The ones that stood out to me the most of the 19 are:
Elixir, featuring mainly remixed pop, hip hop, and Top 40s:
Rose Garden, featuring a mechanized dragon overlooking a diverse curation of dance music. One of my favorites, Third Party, performed here:
Rise which also featured dance and Top 40s:
Freedom, featuring rave music with intense visuals for artists such as Eric Prydz:
Atmosphere, featuring techno:
Cage featured modern techno, rave and industrial hardcore DJs:
Rave Cave, which true to its name, is a tiny venue and home for ravers nostalgic for the original vibe of outdoor partying:
Youphoria, the home to people on psychedelics and DJ Diesel aka Shaq:
One of my favorites, Core, which is off on its own in the forest after an extended walkway, featuring percussive dance and progressive beats:
The Library, which holds its own as a main stage contender and therefore is seen as the "second stage" to the main one featuring future house, big room, and hardstyle artists like Afrojack, Dmitry Vegas & Like Mike, and Paris Hilton.
Crystal Garden feels to me like the "third stage" with eclectic artists such as Andrew Bayer, Meduza, etc.: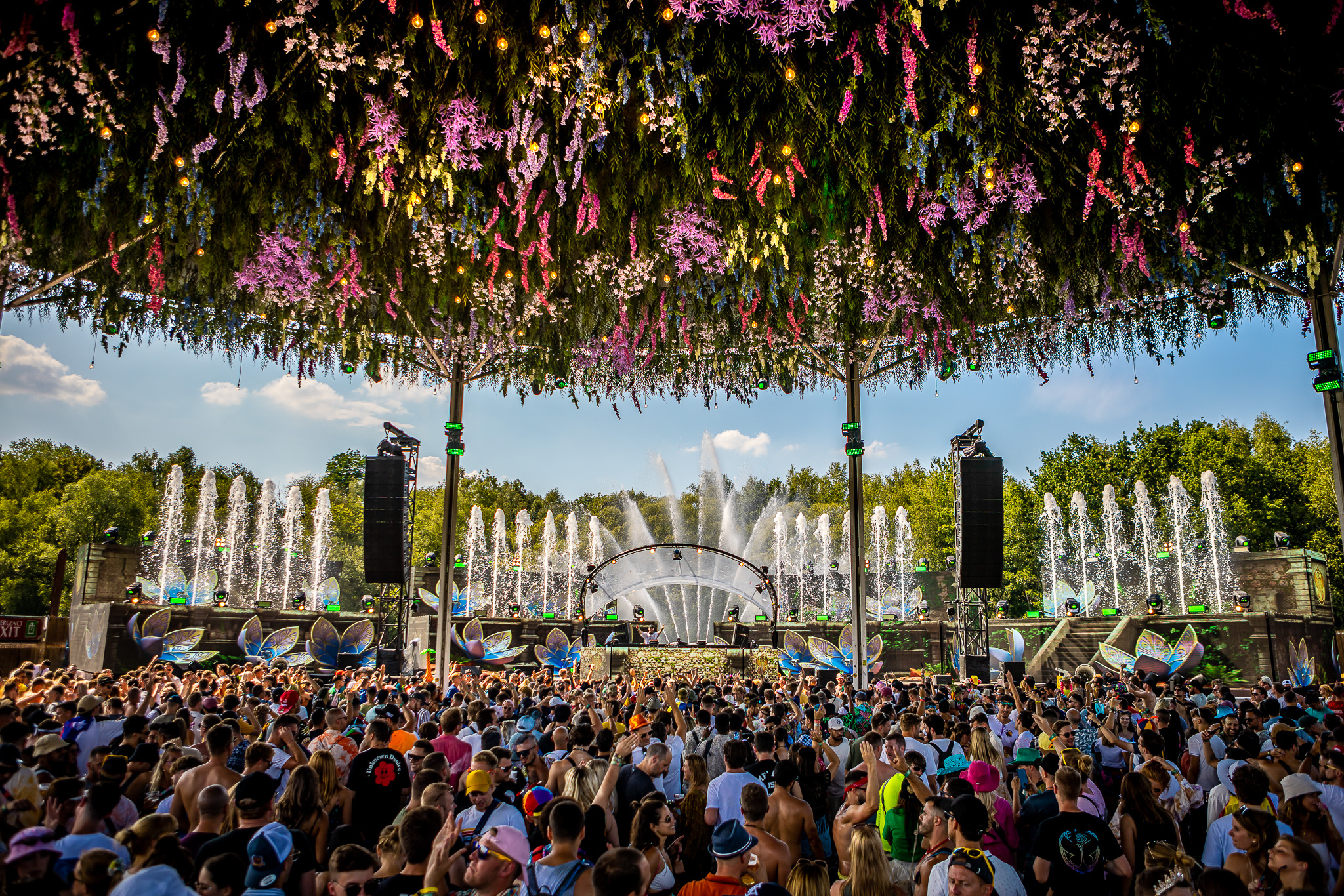 And finally the Main Stage, which changes every year and goes all out with the lighting and pyrotechnics:
How did they even get the moon to be a part of their show?!
Photos speak for themselves for the main stage:
And the best part of Tomorrowland were all the people who came, whether the ones you came with or the ones you'd run into:
"Excuse me, do you know which way to the main stage … wait, are you Calvin Sun?"

"Yes I am! What's your name? And how did you know my name?"

"I'm Susie! We never met; I'm from Vancouver but I follow you on Instagram and I had emailed you back in January about joining for your Yacht Week trip in Greece!"

"That's so crazy…that trip was just last week! Wish you had joined us. And what a small world. What's your Instagram handle?" [Gives Instagram handle] "…how do you know Paul Woo? You follow him on Instagram too!"

"I just met Paul yesterday in Paris at a hostel!"

"What?! He was just on our Yacht Week trip in Greece last week as well! Yes, the one you almost signed up for!" [shows photos of Paul with us in Greece] "He left us early to head to Paris to shoot for a wedding, which is how you met him just last night!"

"OMG. That's crazy!!!"

"And he's joining us for Tomorrowland tomorrow!"

"What?!"

[I text Paul a photo of me and Susie; his response: "I was going to keep it as a surprise, so that's crazy you just ran into her on your own anyway at Tomorrowland!"]
[while waiting in line for CORE] "Can we take a photo?"

"OMG Jackie!" (she traveled with us back in 2014 to Haiti & the DR!) —
On our last day, Paul and Sujay joins us! (while Ann and Raubern being already there makes it a South Korean reunion):
Then we run into Kunal, making it also a true Yacht Week Greece reunion:
And how the night ended:
After the show wraps every night at 1am (midnight on the last day so people can make it to their first flights out), Tomorrowland makes the departing non-Dreamville crowd walk up to 40 minutes to the shuttle buses taking everyone to their respective lodgings.
This is done on purpose to stretch out the crowd walking at their own paces so that it never gets bunched up into a crush. They nevertheless make up for the long march with providing entertainment (such as firedancers, interpretive dancers, jugglers, etc.) along the path.
And before you know it, you're being woken up to remind you that Tomorrowland has booked your shuttles for the flights out and they don't want you to miss your ride home:

1 total views
, 1 views today
- At time of posting in Boom, Belgium, it was 17 °C - Humidity: 85% | Wind Speed: 16km/hr | Cloud Cover: cloudy, rain makes everything better anyway